INCENTIVES:
Alright y'all. 'Tis time we pulled out the big guns (no pun intended--think Victory Tour in District 11 at beginning of
Catching Fire
if you're confused).
Finnick is going against Jem this Friday.
In case you didn't know, my good friends at the
YA-Sisterhood
host an annual online tournament competing different fictional guys, called the YA Crush Tournament. You may have seen its hashtag #YACrushTourney on Twitter. In any case, I was lucky enough to land the role of Finnick's advocate, and since y'all so awesome and we pulled a victory last time, Finnick is advancing into the next round.
July 27th, 2012. Vote. For. Finnick.
Now last round, the amazing amazing
Jeri Smith-Ready
gave away her ARC of The Hunger Games
. I had no idea how I could
POSSIBLY
top that, since it's pretty much one of the most awesome things ever, but then.
See, the thing is, an ARC of
The Hunger Games
is practically impossible to top--unless you also have an ARC of
Catching Fire
. And I don't have one and they're selling it on ebay for a thousand bucks, which I don't have considering my pretty much broke status, so I figured something
equally as awesome
should do.
AKA,
A SIGNED THE LAND OF STORIES BY CHRIS. FREAKING. COLFER.
Yes, you read that right!
Chris Colfer
, starring as Kurt in the hit TV show
Glee
(which earned him a Golden Globe Award). Chris Colfer's signature. And his book.
But how does this relate to The Hunger Games?
Just watch
this
.
Yeah.
IF FINNICK WINS, YOU CAN HAVE CHRIS COLFER'S SIGNATURE IN YOUR POSSESSION.
INTERNATIONAL CONTEST.
BUT! That's not all!
-For every 2,000 votes Finnick gets, I will be giving away one Etsy Hunger Games-related swag, $10 or less
(not including shipping and taxes).
INTERNATIONAL.
You can get some really cool stuff, like this awesome pocketwatch: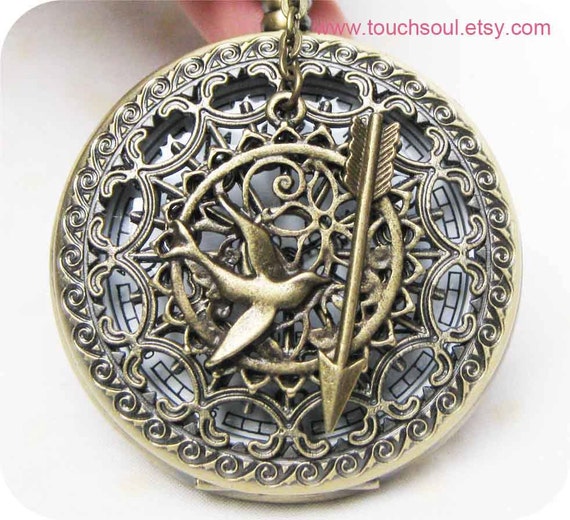 -
For every 1,000 votes Finnick receives, I will give away ONE ARC from this list.
They're super awesome. Trust me.
US ONLY
.
Note: I have not read all of the books on that list yet, so mailing might take longer than what you may expect.
*
Edited to add:
I AM NOW ADDING
UNRAVEL ME
by Tahereh Mafi to the list!*
-For every 500 votes Finnick gets, I will give away an envelope of awesome swag.
There's signed stuff, maybe even
posters if we've reached past 5,000 votes. US ONLY.
And lastly,
-
For every 100 votes Finnick receives, I will add a random #TeamFinnick/#TeamFishboy/#FinnickForFirst/#FightForFinnick/#FinnickFanatics hashtag-user on twitter into a box of names. The tweet must include a link to the YA-Sisterhood tournament post.
At the end of the round, I will pick one name out of that box of names. I have another box of possible things the winner might win. Those items include: a) $20 Barnes&Noble gift card; b) 3 ARCs of your choice from the list I mentioned above; c) an
Earn that Dream design package
; d) a 10,000-word critique from me; or e) your choice of a
Hunger Games tote bag
worth $25 or less.
Yeah. This is the freaking prize-a-palooza. I saved up money for the
ENTIRE MONTH
to pay for all of these stuff, you guys. So
please please please VOTE FOR FINNICK!
<3
As Peeta says in my advocate post that will be posted on the YA-Sisterhood blog when the round goes up this Friday:
"Team Jem or Team Will?
Team Finnick will
prevail
!"
a Rafflecopter giveaway
BUTTONS:
Here are the old #TeamFinnick buttons with new dates on them! (Feel free to grab them and showcase them as your twitter avatars, facebook profile pictures, tumblr posts, pinterest covers, facebook covers, etc.)
Facebook cover:
Buttons:
VOTE FOR FINNICK ON JULY 27th 2012! IF

EVERYONE SPREAD THE WORD TO JUST
5 OTHER PEOPLE, WE WILL WIN THIS.
AND YOU WILL WIN, TOO.
So spread the word. Save the date.
Vote.